Welcome To RCI Productions
Talofa and Welcome to RCI Productions online list of all Pablo Rodriguez Tupuola albums that are available.Many of them are sold at Asian and Latino music stores across the U.S.,but you can order from here and save money and also be assured that you are not getting a pirated copy.Call RCI at (305)490-9348.All songs by Pablo,if other singers also,their names are included.Below is a list of all titles available.You can also listen to audio samples of my songs by visiting the "Listen To My Music" page.Leej ntxhais nkauj Hmoob "Xaav pw ntawm koj xub ndlag".Sis ntsib dlua lwm zag!Pab Lo Xiong zaj CD muaj nyob rau CD lawm tus nqi yog $16.99 tam sim no peb muag $12.99.Albums with "MD" at the end of the number are only available in CD or MD format,sorry for any inconvenience.
In the coming months we will be re-organising this section.Instead of one long list,albums will be listed according to language.
ÄãºÃ RCI Productions ÅÉ ²¿ Âä ÐÛ
NOTE:To view the Chinese and Japanese characters,you need a CJK viewer.
---
M&uacutesicas Da Vida #55-9361-41 Special Item!
01.Touch By Touch (English)
02.Dream Of You (English)
03.Leha'amin- Acreditar (Hebrew & Portuguese)
04.Os Amantes (Portuguese)
05.Vou De Taxi- Version Curitiba (Portuguese)
06.Lonely Tears In Chinatown (English)
07.Minha Criança- Anak (Portuguese)
08.I Ke Kani Ana Pahu (Havaiian)
09.Tonight So Cold (English)
10.Amor, Familia Y Respeto (Spanish)
11.Pura Emoç&atildeo (Portuguese)
12.Hoshia Et Amecha- Salva O Teu Povo (Portuguese, Spanish & Hebrew)
13.Vou De Taxi- Pablo vs Vanessa Paradis (Portuguese & French)
14.Asa Branca (Portuguese)
15.My Child- Anak (English & Tagalog)
16.Saigo No Iiwake- Ikaw Pa Rin (Japanese & Tagalog)
17.Jalan Kehidupan (Hindi & Malay)
18.Coco Jamboo (Samoan & English)
19.Vou De Taxi- Pablo vs Priscilla (Portuguese & Mandarin Chinese)

Eu E Você Na Ilha Do Sol #55-9361-RS NEW 2004!
01.E O Vento Levou
02.Uo Mamae Mai Miami
03.Eu E Você Na Ilha Do Sol
04.Leha'amin (Hebrew & Portuguese)
05.Feitio De Oração
06.Alofa Mo 'Oe
07.Erev Shel Shoshanim
08.E Tau I Le 'Aiga
09.Amor, Familia Y Respeto
10.Rolar Na Praia
11.Next Generation
12.Tina Mata'afa

Tamaragua! #53-3591-RS NEW 2004!
01.Amor, Familia Y Respeto
02.T&uacute Eres Mi Esperanza
03.Tamaragua! (Guanche,Spanish & Samoan)
04.Twenty Minutes Before Take-Off
05.Alofa Mo 'Oe (Te Amo)
06.Comparte Tu Vida Conmigo
07.Rasgones Mojando Mi Cara
08.La &Uacuteltima Canci&oacuten
09.Trying To Understand These Feelings Inside
10.La Cosa Mas Importante
11.Tamaragua! (La Gomera remix)

Waiting For Your Love #53-3581-SS NEW 2004!
01.Close To You
02.If I Could Get Another Chance
03.Nobody Knows
04.I Promise You
05.You're The One
06.A Moment Like This
07.What Becomes Of The Brokenhearted (Movie theme)
08.Come Walk With Me
09.Waiting For Your Love
10.I Wish For You (Movie theme)
11.Without You
12.Touch By Touch

Lloviendo Estrellas #53-7290-RD NEW 2004!
01.Cerca De T&iacute
02.Lloviendo Estrellas (Samoan & Spanish)
03.Amor Samoano,Coraz&oacuten Cubano
04.Luna Nueva (Samoan & Spanish)
05.Sentimientos Del Alma
06.Malosi Le Alofa (Samoan)
07.Mi Primer Mill&oacuten (Samoan & Spanish)
08.Masina Fou (Luna Nueva)
09.Days And Nights I'm Missing You
10.A Thousand Miles
11.Otro D&iacutea M&aacutes
12.Mariposa (Samoan & Spanish)

Esto Es Amor #53-2641-RD NEW 2003!
01.Me Quedo Con T&iacute
02.Lejos De T&iacute
03.Esto Es Amor
04.La Gente Hermosa
05.Voy A Vivir La Vida
06.Y Ya Te Vas
07.Sue&ntildeos
08.I'll Stay With You
09.You're The One
10.Samoa E Ne'i Galo Atu (Salsa version)
11.Bailamos (Magdalena Rapa Nui version)
12.27 De Enero

D&oacutende Yo Nac&iacute #53-2753-CU NEW 2003!
01.Have You Forgotten The First Love
02.No Me Carezcas (Alofa Faifaipea)
03.D&oacutende Yo Nac&iacute
04.El Centro De Vedado
05.Don't Hold Back
06.Le Nu'u O Le Ve'a'o
07.Alabado Sea Dios
08.Jesucristo Nuestro Camino Ilumin&oacute
09.Under His Wings
10.El &Uacuteltimo D&iacutea En Miramar
11.R&iacuteos De Babilonia
12.Libertad

Guantanamera #53-2748-CU NEW 2003!
01.Tengo Un Trato
02.La'u Uo Mai Le Santiago
03.Bailando (Siva Mai)
04.Mi Historia Entre Tus Dedos
05.Guantanamera
06.Alofa Faifaipea (No Me Carezcas)
07.Como La Flor
08.Alofa O Le Atua (Amor De Nuestro Dios)
09.Un Hombre Sencillo
10.Fa'amaoni Le Alofa (Amor Sencillo)
11.Canci&oacuten De Amor
12.Felicidad

Canciones Por La Vida #53-6271-MI NEW 2003!
01.Destiny;with Rangi
02.Estoy Por T&iacute
03.Me Haces Tanto Bien
04.Piensa En Mi
05.Tan Solo T&uacute
06.Mi Historia Entre Tus Dedos
07.Mam&aacute Mam&aacute
08.As&iacute Es La Vida
09.Tilar&aacuten
10.Si Te Quiero Te Olvido
11.Love Is Faithful (Fa'amaoni Le Alofa)
12.Amor De Nuestro Dios (Alofa O Le Atua)

Destiny #30-6777-WC NEW 2003!
01.Alofa O Le Atua;with EFKS
02.Tautinoga O Le Alofa
03.Magdalena Rapa Nui
04.Aroha Mai (Rapa Nui & Tahitian)
05.Destiny;with Rangi
06.Alofa Faifaipea
07.Folafolaga Matagofie Mo Kerisiano
08.Somebody Like U
09.Nofo Ae Alofa Atu
10.Teliho,How Can Love Hurt So Much
11.Talosia Ia O Tumau
12.Why Don't You Care
13.Tiare O Ikurangi (Rarotongan)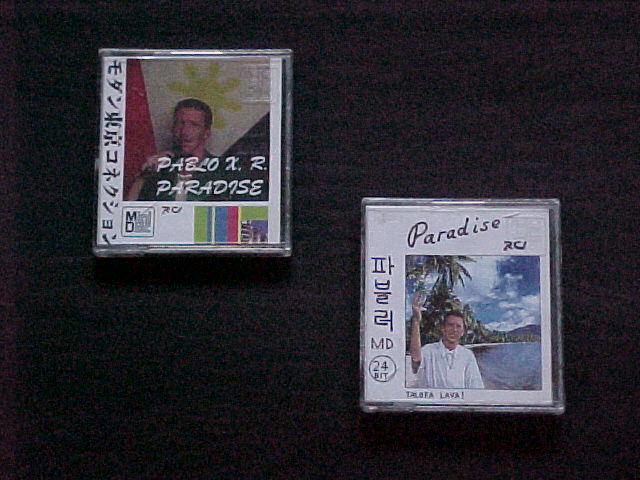 "Paradise" MD Asian and Latin American releases
Alofa Faifaipea #30-6775-SA NEW!
01.Love You From Da Ta'ele O Lo'u Agaga
02.Don't Know Why
03.Alofa Faifaipea
04.Filemu I Le Lalolagi Uma
05.Alofa Mo 'Oe
06.Fa'amaoni Le Alofa
07.Mafutaga Motusia
08.E Sili A Mama
09.Mai Poina (Tahitian)
10.Carry Me On
11.Pule I Le Ola
12.The Meaning Of My Love
13.Te Tai O Te Ua (Tahitian)
14.Aroha Mai (Tahitian)
Perdóname #11-4874-SA
01.Un Más Intento
02.Perdóname
03.Maligi Ou Loimata
04.Porqué T&uacute Fuiste
05.Mi Historia Entre Tus Dedos
06.Loimata O Apaula
07.Moorea
08.Lo'u Fetuao
09.Mi Corazón Quebrado
10.Rasgones En Mi Almohadilla (Maligi Ou Loimata)
11.Mi Estrella De La Mañana (Lo'u Fetuao)
12.One More Try
13.My Life Is In Your Hands
Amor Eterno #11-4818-SA
01.La Vida Es Una Flor
02.Rosa 'Ua Lelei
03.Amor Samoano,Corazón Cubano
04.La Cosa Más Importante
05.Buscando Amor Verdadero
06.Como La Flor
07.Bailando (Siva Mai)
08.Rosa Te Estoy Esperando (Rosa 'Ua Lelei)
09.La Felicidad De Mi Vida
10.La'u Pele O Le Atunu'u
11.Amor Eterno
12.La Gente Hermosa
13.Amor,Día Después De Mañana
Bailando #11-3726-MD
01.Bailando;with Rosita
02.Cantando La Historia De Mi Vida
03.Lo'u Fetuao (DDR)
04.Tu Sonrisa
05.How Can Love Hurt So Much
06.Viva El Amor
07.Butterfly
08.Before I Let You Go
09.Rosa 'Ua Lelei
10.T&uacute Y Yo Contigo
11.Tagi Tina
12.Aserejé
13.La Gente Hermosa
Vaea #11-3576-MD
01.You're So Beautiful (Vaea remix)
02.Vaea And The Princess
03.Love,Day After Tomorrow
04.E Ke 'Ofa Ia A'u (Tongan)
05.The Perfect One
06.'O Lo'u Alofa Lena
07.La'u Pele O Le Atunu'u
08.Sunshine Girl
09.Illusions
10.Ta'ahine (Tongan)
11.You're So Beautiful (Loimata O Apaula version)
12.Feel So Sorry
13.Lo'u Ola Uma (All My Life)
14.You're So Beautiful (Ballad version)
15.Back At One (Samoan)
Siva Fa'a Samoa #11-1715-MD
01.Girl Of My Dreams
02.Lo'u Fetuao (Dance version)
03.Siva Fa'a Samoa
04.Samoa Uma
05.What Becomes Of A Broken Heart
06.Uo Moni
07.Fa'amoemoe
08.Never Been Loved
09.Watching My World Go By
10.Le Pese Fa'aipoipoga
11.Lo'u Fetuao (Ballad version)
12.Faka'ofa Koe Ova(Tongan)
13.Ofa Atu (Tongan)
La'u Pele O Le Atunu'u #11-1726-MD
01.Our Samoa
02.La'u Pele O Le Atunu'u;with Apaula
03.Alofa Moni
04.Mi Querida De Mi Pa&iacutes
05.La'u Talosaga
06.Impossible Dream
07.Fa'amaoni Le Alofa
08.I Wish We Had Met Some Years Before
09.My Prayer
10.Agelu Mai Luga
11.The Way Things Are
12.Sa'oloto
13.Tears On My Pillow
Rastasilisili Jam #11-9160-MD
01.Samoa E Ne'i Galo Atu
02.'O Lo'u Alofa Lena (Apaula)
03.E Te Alofa Ia Te A'u (Reggae version)
04.La'u Pele,Don't Shed No Tears
05.Fa'a Kerisiano,Fa'a Samoa
06.Our Father's Land
07.E Te Alofa Ia Te A'u (Ballad version)
08.The Samoan Wedding Song
09.Our Mother Of God
10.Do You Love Me (Reggae version)
11.Especially For You (Donde Est&aacute El Amante)
12.The Key To My Heart
Love Me #11-9126-MD
01.E Te Alofa Ia Te A'u (Ballad version)
02.Island Girl
03.Love Me (Samoan & Tongan)
04.No More Searching
05.Fa'atoese Nei
06.Coconut
07.I Wish For You
08.Back At One
09.Maligi Ou Loimata
10.Stay With Me
11.Afioga
12.Glad I Found You
'O Lo'u Alofa Lena #15-6939-MD
01.Coco Jamboo (Samoan)
02.'O Lo'u Alofa Lena
03.Ali'i Iesu
04.Teine Samoa
05.Agi Mai Matagi
06.Ko Ho Mau 'Eimi Koe (Tongan)
07.Te Tau O Taku Ate (Maori)
08.Love Is The Answer
09.Lo'u Tiga
10.Thank You God For Her
11.Koi Koi (Maori)
12.Love One Another
'O Le Lalolagi Uma #15-0476-MD
01.Nuanua
02.Filemu
03.'O Le Lalolagi Uma
04.La Lelei O Samoa
05.Fiafiaga Motusia
06.Alofa Fa'avalea
07.Oso A'e Lela
08.All The World As One
09.Te Fenua Nei (Tahitian)
10.Kaa Te Tini O Iva (Cook)
11.Alofaaga
12.Sau Ia Oe
Sagittarius Angel #15-0276-MD
01.Coco Jamboo
02.Faitoto'a O Le Alofa
03.Fa'amaoni Le Alofa
04.Sagittarius Angel
05.Musumusu Atu
06.Le Itumalo Alofa
07.So Happy To See You
08.Gin Gan Goolie
09.Sha La La
10.My Love Is True
11.Rosa 'Ua Lelei
12.Fa'amolemole
13.That's Alright Rosa
We Are Polynesia #27-6773-AP
01.Fa'amaoni Le Alofa (Ballad version)
02.Alofa Moni Ia Te Oe
03.Fa'amaoni Le Alofa (Dance version)
04.Mesenedi Kowe (Ponapean)
05.We Are Polynesia
06.Te Fenua Nei (Tahitian)
07.E Dua Na Siga (Fijian)
08.My Love Is True
09.Jumbo (Marshalese)
10.Lelaifoni Tau
11.Lo'u Sei Oriana
12.Nan Sapweio (Ponapean)
13.Kosrae
Samoan Way #27-6753-MD
01.Oi Aue
02.Taute
03.Sini O Lo'u Olaga
04.Punitia O Le La
05.Leone
06.Teine Samoa
07.Rosalia
08.Ma Lolo Ita
09.Lamepa Susulu
10.Forgetting My Sunshine (Dahlia)
11.I'm Sorry
12.Matalasi
13.Another World
Te Fenua Nei #79-6986-MD
01.Masi Samoa
02.I Sinente-Ku (Chamoru)
03.Snoopy (Gonna Get Her Tonight)
04.Te Fenua Nei
05.Lucky 9 (Bump And Grind)
06.That's The Chamoru Way
07.'O Lo'u Alofa Mutimutivale
08.The World Now
09.If You Really Want To
10.My Dear,Please Answer Me
11.Mata-Mu (Your Eyes)
12.Tata (Papa)
13.Come With Me
Eternal Love #79-6922-DP
01.Alofa Fa'avavau (Eternal Love)
02.Especially For You ('O Lo'u Alofa Mutimutivale)
03.Losing My Way
04.Imagine (Samoan)
05.Can You See The Light?
06.Pele Ea Se'i Tali Mai
07.Kadena '99
08.Only Time
09.Punitia O Le La
10.Without Compasion
11.Letting You Go Your Way
12.No More Dream
13.Our Lost Home
Isang Buhay #79-8163-MD
01.Para Keng Makalaut A Kaluguran
02.Isang Buhay
03.I'll Stand With You
04.Wanna Be The One
05.Isa't Isa'y Mahal
06.Mahal Kita (Tune of "Muchacha Triste")
07.Iingatan Ka
08.Baluga Taga-Amerika
09.D&iacutea Del Muerte
10.Buhay Nga Naman Ng Tao
11.One Last Chance To Let You Know
12.Remember Me (Tagalog)
13.Will You See My Face Again?
Crossroads Of Life #79-8062-MD
01.Kaluan Mu Ku
02.Crossroads Of Life
03.Ing Istorya Ning Kanakung Kaluguran
04.Para Keng Makalaut A Kaluguran
05.Pakamalan
06.Hold Me Tight
07.Pagkalungkutan Ku
08.Kapilan
09.Love,Day After Tomorrow
10.Ana Kasakit
11.For Better Or For Worse
12.Ing Milyari Kening Bie Ku
13.Circle Of Life
If You Steal My Sunshine #79-8069-MD
01.Distance In Your Eyes
02.Kimigasuki
03.Eyes Only For You
04.If You Steal My Sunshine
05.On My Own
06.Love,Day After Tomorrow (Tagalog)
07.Para Keng Makalaut A Kaluguran
08.With So Much Love
09.Hurting Inside
10.Bulaklak
11.Just To Hear Your Voice
12.Love,Day After Tomorrow (Espa&ntildeol)
13.Running Away
Flowers For Your Heart #78-3667-MD
01.Bulaklak (Dahlia)
02.Rosa 'Ua Lelei
03.One Last Goodbye
04.Love,Day After Tomorrow (Tagalog)
05.Don Pablo De Manila
06.Hana (Flowers For Your Heart)
07.My Feelings For You
08.Fafine Mai Kadena
09.If You Went Away
10.Ikaw Pa Rin
11.Alay Sa 'Yo
12.My Song To You Part 3
13.Mo Mo Ai Ni (Chinese)
Paradise #78-3567-MD
01.Love,Day After Tomorrow (Tagalog)
02.Donde Est&aacute El Amante (Where Is Love)
03.Happy Days
04.Ikaw Ay Mahal Ko Rin
05.Sunshine After The Rain
06.Bunga Ng Espiritu
07.Eyes On Me
08.Smile Again (Tagalog)
09.Okey Ka Lang
10.Everything's Gonna Be Alright (Tagalog)
11.Trying To Find My Way
12.Bulaklak
13.Love,Day After Tommorow (Japanese)
14.More Than A Friend
The Music Of Dream #61-2083-DP
01.Ipagtapat Ang Pag-ibig Ko
02.'Ou Te Alofa Ia Te Oe (Summer version)
03.Love Me Again
04.Yang Ku Sayang (Malay)
05.Torete
06.Por Tu Amor
07.Saan Ka Man
08.Rosa 'Ua Lelei;with Rosa Tauai
09.Pag-ibig Ko'y Forever
10.'Ou Te Alofa Ia Te 'Oe (Miramar remix)
11.Bakit Kita Inibig,Bakit Kita Minahal?
12.'Ou Te Alofa Ia Te 'Oe (Winter version)
13.Kaluguran Da Ka
14.Sapagkat Iniibig Kita
Pablo In San Diego #50-8216-DP LIMITED TIME ONLY!
01.Kaya Ka Lumayo
02.Tell Me What Is True
03.'Ou Te Alofa Ia Te 'Oe (Samoan)
04.Dream On
05.Mahal Kita Higit Sa Lahat
06.Paano Ko Sasabihin
07.Minsan Pa
08.Here I Am (Samoan)
09.Paint My Love (Tagalog)
10.Sayaw Na (Siva Mai)
11.Ipagtapat Ang Pag-ibig Ko
12.Siva Mai (Samoan)
13.I'd Love You To Want Me
My Last Goodbye #85-6731-MD
01.Kung Mayrong Pag-asa
02.Pag-ibig Ko'y Forever
03.Wait For Me
04.Buti Pang Mamatay (Ang Puso Ko'y Nagdurusa)
05.Bakit Kita Inibig,Bakit Kita Minahal?
06.Alay Sa 'Yo
07.Ika Mu Ing Sinta
08.Why Did I Love You,Why Did I Care?
09.My Feelings Of Love For You
10.If I Had The Chance
11.Gabi't Araw I Dream Of You;with Champagne Morales
12.My Last Goodbye
13.Memory Of You
From Asia With Love #61-2081-2
01.Ngu&ogravei T&igravenh Tram Nam
02.Kuv Hlub Koj Xwb
03.From Asia With Love
04.Rosa 'Ua Lelei (Techno version)
05.Gap Nhau L&agravem Ngo;with Vivian Nguyen
06.Ch&uacutet Ky Ni&ecircm Bu&ocircn
07.Yog Koj Ua Kuv Tug (Dance version)
08.Waiting For Your Love
09.Y&ecircu Ngu&ogravei Y&ecircu Mai (Vietnamese)
10.Ikaw Pa Rin (New version)
11.Rosa 'Ua Lelei (Santo Domingo version)
12.Mo Mo Ai Ni ÎÞ ÎÞ °® Äã (Mandarin)
Return To Polynesia #70-6731-2
01.Lou Alofa,Lou Ola
02.Te Tau O Taku Ate (Maori)
03.It's So Easy
04.Fanua Matua
05.Horo'a Mai (Tahiti)
06.Oi Teine 'Olivia
07.My Mother Land
08.Ki Mua 2001 (Live performance)
09.Alofa Teine
10.Samoa E Ne'i Galo Atu
11.Ke Ke Kitea (Tokelau)
12.'Ou Te Alofa Ia Te Oe (Dance version)
13.Looking To Our Future 2001
Ki Mua 2001 (Polenisia) #70-4401
01.Aue Kapaku
02.Oi Teine 'Olivia
03.Ki Mua 2001 (Live performance)
04.Pate Pate
05.Ke Ke Kitea
06.Ko Ho Mau 'Eimi Koe
07.Sagalogalo Ake
08.Kau Tufuga Fai Vaka
09.Mai Poina
10.Once Upon A Time In Old Polynesia
11.'Ou Te Alofa Ia Te Oe;with Lili Lacsamana
12.That Is Love
Ngu&ogravei &ETHep Vi&ecirct Nam (Vietnamese) #55-4807-MD
01.Ng&acircu H&uacuteng L&yacute Qua C&acircu;with Vivian Nguyen
02.Qu&ecirc Huong Xa V&ogravei
03.Linda (Vi&ecirct v&agrave Hmong)
04.T&ocirci &ETHi Giu'a L&ograveng Qu&ecirc Huong
05.Con Tim M&ugrave L&ogravea
06.T&igravenh V&agrave &ETH&ogravei (Maghihintay Sa 'Yo)
07.T&igravem Lai C&agravenh Ngoc Lan
08.Khi T&igravenh Y&ecircu Ta T&ugrave (Ikaw Pa Rin)
09.Dream Of Your Love
10.Nhu'ng L&ogravei D&ocirci Gian
11.Si T&igravenh (Hoa Sen)
12.Ngu&ogravei T&igravenh Tram Nam
13.Nu H&ocircng Mong Manh
Pablo Live In L.A. #55-5597
01.Con G&aacutei B&acircy Gi&ograve
02.Let Me Get To Know You (Vi&ecirct v&agrave Anh)
03.&ETH&ocirci B&ograve (Anak)
04.Help Me Through The Summer (Vietnamese)
05.Ku'u Ipo (Hawai'ian)
06.Ai Ra X&uacute Hu&ecirc
07.Tanging Mahal (Tagalog)
08.Magandang Buhay (Beautiful Life)
09.Ch&ograve Ngu&ogravei
10.Thuong Qu&aacute Qu&ecirc Huong Oi
11.&ETH&ocirci Ta
12.Ngu&ogravei Cham
Rosa 'Ua Lelei #73-2002-MD
01.Ing Tapat Kung Pusu
02.Rosa 'Ua Lelei;with Rosa Tauai
03.Together Again
04.No Matter What
05.Ipagtapat Ang Pag-ibig Ko
06.Ki Mua Nei
07.Line To Heaven
08.Sabi Ng Puso Ko
09.Only You
10.Touch My Heart
11.Rainy Days
Love Of My Life #64-6161
01.Dream Of Your Love
02.Help Me Through The Summer
03.Love Of My Life
04.If You Love Me
05.You're The One
06.Tanging Mahal (Tagalog)
07.I Need To Know
08.Passion
09.Show Me A Smile
10.Remember Mother And Father (Anakasakit Ima At Tatang)
11.Waiting For Your Love (Maghihintay Sa 'Yo)
12.My Song To You
Dance Rajah Dance #55-1763-MD
01.Rindu Kami Padamu
02.Antara Aku,Kau Dan Bekas Pacarmu (Dance version)
03.Chhutti Kardi Meri (Hindi)
04.Aaj Hamaari Basti Mein
05.Isa Lei Aaja (Fijian)
06.Jalan Kehidupan
07.Inikah Cinta
08.With So Much Love
09.Selamanya
10.Nasha Yeh Pyar Ka (Hindi)
11.The Path Of Life (Jalan Kehidupan)
12.Kaluguran Da Ka (Live performance in Angeles City)
O A'u O Le Samoa (Polenisia) #70-6788-9
01.O Oe O La'u Uo Moni
02.E Le Alofa E
03.'Ou Te Alofa Ia Te Oe;with Lili Lacsamana
04.O A'u O Le Samoa
05.Avatu Mo Oe
06.Samoa E Ne'i Galo Atu (Dance version)
07.Lo'u Vai Safe'e
08.Ku'u Ipo
09.Pate Pate
10.A Sincere Love
11.Ko Ho Mau 'Eimi Koe (Tongan)
12.Tears Of Tragedy
13.Ia Oe Le Uo Bora
Pablo In Angeles City #45-2009-8
01.Mekeni Keng Siping Ku
02.Kaluguran Da Ka;with Mai Mai Yambao
03.Olivia,Ipagkalam Mu
04.Para Keng Makalaut A Kaluguran
05.Ania Mong Malati Kata
06.Nung Aganaka Ku
07.Pibatan Ku Irog
08.Ki Mua Nei
09.Kabayat Na
10.Ika Mu Ing Sinta
11.Love 2 Love (Tagalog)
12.Tandauan Me (Champa Bhangra mix)
13.Ing Dalan Na Ning Bie
Pablo International Version #26-7126-DP
01.How Can Love Hurt So Much
02.We Are Meant To Be
03.Niin Kaunis On Hiljaisuus;with Kirsi (Suomi)
04.Baliw Ako Sa 'Yo (Tagalog)
05.With So Much Love
06.Erev Shel Shoshanim (Hebrew)
07.Fade Away
08.Ika Mu Ing Sinta (Kapampangan)
09.Please Be Careful With My Heart;with Lisa
10.Maanantaihin (Suomi)
11.Ikaw Pa Rin (Tagalog)
12.Oi Teine 'Olivia (Samoan)
Wait For Me #22-5249
01.I Wish For You
02.Yog Koj Ua Kuv Tug (Dance version)
03.Wait For Me
04.Love Of My Life
05.Tanging Mahal
06.Mi Leej Muam
07.Mus Zoo Niam
08.Yog Koj Ua Kuv Tug (Slow version)
09.Miss You Not
10.Maghihintay Sa 'Yo (Dance version)
11.ÎÞ ÎÞ °® Äã Mo Mo Ai Ni
12.Maghihintay Sa 'Yo (Slow version)
Amor Filipino (Espa&ntildeol) #93-4581
01.Coraz&oacuten Fracturado
02.Amor Filipino
03.Mi Historia Entre Tus Dedos
04.En T&iacute
05.Ojos De Esperanza
06.Ay D&iacutemelo
07.Se&ntildeorita
08.Canci&oacuten De Amor
09.Te Recuerdo
10.Por Tu Amor
11.Canci&oacuten Para Olivia
12.A&uacuten Te Amo
Dream Of Your Love #67-2000-1
01.Mai Poina (Tahitian)
02.Dream Of Your Love
03.Ako Ay Babalik
04.My Heart Will Go On
05.Miss Pakipot (Kapampangan & Tagalog)
06.When Your Life Is Over
07.Amor Filipino
08.Olivia,Ipagkalam Mu
09.Tandauan Me (Kapampangan)
10.Anakasakit Ima At Tatang
11.Kaluguran Da Ka
12.The Last Thing On My Mind
Nasha Yeh Pyar Ka (Hindi) #49-1995-DP
01.Ho Jayegi Balle Balle
02.Nasha Yeh Pyar Ka
03.Kudiyan Shaher Diyan
04.Dil Kya Kare
05.Aankh Mare
06.Isa Lei Aaja (Fijian)
07.Chhukar Mere Man Ko
08.Inikah Cinta
09.Tandauan Me (Kapampangan Harana)
10.Nach Baby Nach Kudi
11.Hindustani
12.Rang De
Come Back Home:Five Years Of Loving You #67-6775-MD
01.Ikaw Pa Rin
02.Maghihintay Sa 'Yo
03.Solo Para Ti (Spanish "Ikaw Pa Rin)
04.Basta't Kapiling Ka
05.Through The Years
06.Bakit?
07.Hindi Ko Kaya
08.Remember Me
09.Tsinita
10.Ano Ang Ginawa Mo?
11.Mapagmahal Ako (Champa mix)
12.Come Back Home
13.Khi T&igravenh Y&ecircu Ta T&ugrave (Vietnamese "Ikaw Pa Rin)
Days And Nights Of Missing You #78-2537
01.Days And Nights I'm Missing You
02.Selamanya (Indonesian)
03.Salanghaeyo;with Gina Byun
04.Sleeping Child
05.Maghihintay Sa 'Yo
06.The Actor
07.Forever (Selamanya)
08.Secrets Of My Heart (Mua Tinh Yeu)
09.Tuloy Pa Rin
10.Memory Of You (T&igravenh &ETHa Phai)
11.Paint My Love (Tagalog)
12.Come Into My Life (Tuloy Pa Rin)
Kabalen (Kapampangan) #51-1479
01.Atin Ku Pung Singsing;with Mai Mai Yambao
02.Kaluguran Da Ka (Dance version)
03.Ika Mu Ing Sinta (New version)
04.Tuloy Pa Rin
05.Mameng
06.Keta Pu Kekami
07.Tandauan Me (Harana)
08.Anakasakit Kuyang Eddie
09.Selamanya (Indonesian)
10.The Love I'll Always Have For You
11.Maghihintay Sa 'Yo (Dance version)
12.Diary Of Love
13.The First Time I Saw You
Pablo In Thailand (Thai) #07-6741-MD
01.Kid-Teung-Took-Way-Lah
02.Hlub Koj Tshaj (Lau-Len)
03.Poo-Chai-Yahng-Chun
04.Lau-Len (Thai & Khmer);with Vieng Kham Lounnarath
05.Phom-Rak-Khun (Thov Hlub Dua)
06.You Sang To Me (Thai & English)
07.Hlub Koj Tib Tug (Thai & Hmong)
08.Txhob Tig Los Ntsia
09.Ua Cas Thiaj Tau Koj (Dance version)
10.Olivia (Txhob Tig Los Ntsia)
11.Kolab Krawhom (Khmer)
12.Rak-Nuk-Nan
Hu Guaiya Hao (Chamoru) #75-1287
01.Hu Tugi Un Katta
02.Inutit Yu
03.Hu Guaiya Hao
04.Humesalao Si Tata
05.Sen Puti Yu
06.I Memorias Siha
07.Kontiempo
08.Amigu Hu
09.Palasyon Riku
10.Maila Ta Baila
11.Toktuk Magi
12.Patgon (Anak)
Heart Of Asia 2 (Pilipino) #27-6775-2
01.Ikaw Pa Rin (¤È ¤Á ¤Ë ¤­ ¤é ¡¡ ¤ß ¤é ¡¡ ¤Ë ¤Ë ¤Æ ¤Á ¤Î ¤¤)
02.Kung Hindi Kita Mahal
03.Baliw Ako Sa 'Yo;with Angela Pangilinan
04.My Child (Anak)
05.I Haven't Got The Chance
06.Hindi Ko Kaya
07.Ibalik Na Natin (Tinh Da Phai)
08.Minamahal Kita
09.Mahal,I Love You (Malay & Tagalog)
10.Kailan (Live performance)
11.Ako Ay Babalik
Paalam Na (Pilipino) #27-0126
01.Remember Me (Tagalog-Dance version)
02.Dreaming Of You (Tagalog & English)
03.Paalam Na
04.Tuloy Pa Rin
05.Nasaan Ang Puso Mo
06.Without You
07.Huwag Kang Mag-alala (Dance version)
08.Mekeni Irug Ku (Kapampangan)
09.Why Did You Break My Heart (Live performance)
10.Baliw Ako Sa 'Yo;with Angela Pangilinan
11.Mahal Kita
12.May Pag-asa Pa
Kuv Hlub Koj ÎÒ °® Äã (Hmong & Lao Ãè ) #27-6775-4
01.Thov Hlub Dua (Thai & Hmong);with See Xiong
02.Txoj Kev Hlub Rau Koj
03.Hnub Kawg Ntawm Wb
04.Leej Twg Txiav Wb Kev;with Lisa Xiong
05.Hlub Koj Tshaj;with Wang Guizhen
06.Hlub Txog Hnub Ntiaj Teb Kawg
07.Xav Hlub (Club dance)
08.Muaj Txiv Paab*;with Cristina Lo
09.Nkauj Hmoob Los Tsuas (Sangnang remix)
10.Tsis Muaj Ib Hnub (Adaption of "Lemon Tree")
Millennium #27-1367
01.You're The One
02.Hlub Koj Tshaj;with Wang Guizhen
03.Remember Me (Tagalog)
04.Only Love (Tagalog)
05.Kung Hindi Kita Mahal
06.Samoa E Ne'i Galo Atu (Dance version)
07.Remember Me (English)
08.El Amor De Un Hombre Filipino
09.Horo'a Mai
10.Canci&oacuten De Amor
11.Salanghaeyo;with Gina Byun (Korean)
12.Tuloy Pa Rin
Kev Hlub Lam Ib Vuag (Hmong) #69-5590
01.Leej Twg Txiav Wb Kev
02.Muaj Txiv Pab;with Cristina Lo
03.Thov Hlub Dua;with See Vang
04.Nov Los Kev Hlub Tiag
05.Kev Hlub Lam Ib Vuag (Ikaw Pa Rin)
06.Txhob Tig Los Ntsia
07.Olivia,Thov Hlub Kuv
08.Xav Hlub (Club dance)
09.Yexus Tseem Hlub*;with Cristina Lo
10.Xyoo Tshab Ncig Txug*;with Hmong children
11.Chhoti Si Aasha (Roja;Hindi film song)
Back To Paradise #28-1139
01.Hurting Inside
02.I'll Never Find Another You (Tagalog)
03.Tofa Mai Feleni
04.Remember Me (Tagalog)
05.Girl Of My Dreams
06.Before I Let You Go
07.Aia 'O Hokulea
08.Promise Me
09.Running Away
10.Samoa E Ne'i Galo Atu
11.Te Vaka
12.Kia Matua E (Rapa Nui)
Xa Em Ky Ni&ecircm (Vietnamese) #27-2556
01.H&ocirci Chu&ocircng X&oacutem &ETHao
02.Con Tim M&ugrave L&ogravea (Live performance)
03.Xa Em Ky Ni&ecircm
04.Ng&acircu H&uacuteng L&yacute Qua C&acircu;with Vivian Nguyen
05.Ru&oacutec &ETH&egraven Th&aacuteng T&aacutem
06.Chi C&ograven Bi&ecircn Th&ocirci;with Vivian Nguyen
07.L'lama L'amour
08.Chim S&aacuteo Ng&agravey Xua
09.T&igravenh Th&ocirci X&oacutet Xa
10.Anh Y&ecircu Em Olivia
11.Mot Tinh Yeu
12.C&oacute Le
Music From My Heart #69-1422-2
01.Why Did You Break My Heart (Live performance)
02.My Song To You Part 2
03.Tsis Txhob Chim (Ãè/ºÍ)
04.Mam Pib Dua
05.Hmo No Tseem Tos
06.Ua Neej Tsis Pom Hmoov
07.Music From My Heart
08.Hnub Kawg Ntawm Wb
09.Line To Heaven
10.Poo-Chai-Yahng-Chun;with Vieng Kham Lounnarath (Thai)
11.When I'm Around You Girl
Pablo In Australia #61-5943
01.Yolngu Way (Aboriginal)
02.Hu Guaiya Hao (English & Chamoru)
03.Touch By Touch
04.25 Minutes
05.Ako Ay Babalik
06.Tahitian Queen (Vahine Ma'ohi E)
07.Lift Up Your Hands To God
08.Mai Poina (Tahitian)
09.Sagot Ng Puso
10.Please Be Good To Me
11.Aalis Ka Ba?
12.Sa Aking Buhay Ay Ikaw
Angel Dance (Club Dance) #27-6775-3
01.Txoj Kev Hlub Rau Koj (Hmong)
02.Con Tim M&ugrave L&ogravea (Live performance)
03.Rasta Nui E;with Elisabeth Salise
04.Vahine Ma'ohi E
05.Lau-Len (Thai)
06.Sabi Ng Puso Ko
07.Baliw Ako Sa 'Yo
08.Jarah Lageh Lah;with Hemakshi Patel
09.I Only Wanna Be With You;with Mai Mai Yambao
10.Xav Hlub (Club dance)
11.Nkauj Hmoob Los Tsuas (Sangnang remix)
12.Sa Habang Panahon (Live performance)
13.Ay Dimelo
Together Forever (Chinese) #27-3788
01.ϸ ÃÜ °ï °ï (Xim Bang Bang)
02.Kahit Na Nilimot Mo
03.É¥ ¹ö ×é · ÉÏ µÄ (Sang Gun Zu Lui Di)
04.°® µÄ ³ö Ìå ÁÐ Äþ
05.Mameng (Kapampangan);with Anggun Sasmi
06.ÎÒ °® Äã
07.Selamanya (Indonesian)
08.Éú Éú ÊÇ ÊÇ Ïà Ò»
09.ÎÞ ÎÞ °® Äã
10.¥Ò
11.My Heart Will Go On (Titanic)
Para&iacuteso (Spanish) #69-1422-1
01.Si Te Vas (Baile)
02.Solo Para Ti (Ikaw Pa Rin)
03.Amor Prohibido
04.Chika Lang (El Venao);with Thalia
05.Dreaming Of You (Tagalog & English)
06.Amor Filipino
07.Canci&oacuten De Amor
08.Acostumbrado
09.Como La Flor
10.Por Tu Amor
11.The Love Of A Filipino
China Dance (Enhanced CD) #27-6675
01.China Dance ( Òª );with Kia Yang
02.Chi Con Bien Thoi;with Vivian Nguyen
03.Yam Li Npau Suav (¤¯ ¤Á ¤ß ¤Á)
04.I Only Wanna Be With You;with Mai Mai Yambao
05.Sa Habang Panahon (Live performance)
06.Hlub Txog Hnub Ntiaj Teb Kawg
07.Reality;with Vieng Kham Lounnarath
08.H&ocirci Chu&ocircng X&oacutem &ETHao
09.Sao Khong Thay Anh Ve;with Vivian Nguyen
10.Muaj Txiv Paab*;with Cristina Lo
11.China Dance-Music video (Bonus track-MPEG-1)
Zindagi Ek Geet (Enhanced CD) #69-9258
01.Jarah Lageh Lah;with Hemakshi Patel
02.Zindagi Ek Geet
03.Vahine Ma'ohi E;with Tefafano
04.Siva Mai (Dance With Me)
05.Kaju Gas Sewane (Singhala)
06.One More Try (Hawai'ian))
07.Mameng (Kapampangan);with Anggun Sasmi
08.Rasta Nui E;with Elisabeth Salise
09.Tsis Txhob Chim (Chinese & Hmong)
10.Nidi Nethi Re Yame (Live performance)
11.Jarah Lageh Lah-Music video (Bonus track-MPEG-1)
Ikaw Pa Rin #27-6775-1
01.Hana (Japanese)
02.Ikaw Pa Rin
03.When Will I See You Again (Vietnamese);with Lynda Trang Dai
04.Please Come Back To Me
05.Pamulinawen (Ilocano)
06.Touch By Touch
07.Hauv Koj Lub Xub Ntiag (Forever My Love)
08.The Love I'll Always Have For You
09.Nkauj Hmoob Los Tsuas (Sangnang remix)
10.Saigo No Iiwake (Ikaw Pa Rin)
11.L'lama L'amour (Vietnamese)
12.Ru&oacutec &ETH&egraven Th&aacuteng T&aacutem;with Palawan Vietnamese
Talofa Lava Mai Samoa (Polynesian) #27-6776
01.'E Ta 'Ua Olivia 'E
02.Ka 'Ano'i Pua O Uka
03.Mai Poina (Tahitian)
04.Ku'u Aloha (Miss Pakipot)
05.Siva Mai (Dance With Me)
06.Samoa E Ne'i Galo Atu (Dance version)
07.Papa E (Tokelau & Spanish)
08.I Ke Kani A Na Pahu;with Tiare Faala
09.Horo'a Mai
10.Sunshine Girl;with Elise
11.Te Namo
12.Hahani Mai
Pablo's Hits In English #69-0286
01.You Are The One (Ikaw Pa Rin)
02.I Love You (Kuv Hlub Koj)
03.My Song To You
04.Dance With Me (Siva Mai)
05.Please Love Them/Amani (Thov Hlub Nws/Amani)
06.If I'm Not In Love (Kung Hindi Kita Mahal)
07.Caravan Of Life
08.My Love,I Love You (Mahal,I Love You)
09.Reality;with Vieng Kham Lounnarath
10.Say You Love Me Baby (Xav Hlub)
Pablo And Gina Byun Hits #37-8947
01.Days And Nights I'm Missing You (Pablo & Gina)
02.What's Up (Gina)
03.Salanghaeyo (Pablo)
04.She Works Hard For The Money (Gina)
05.My Song To You (Pablo)
06.You Needed Me (Gina)
07.Ikaw Pa Rin (Pablo)
08.Always (Pablo & Gina)
09.Can't Help Falling In Love With You (Pablo)
10.Shanghai Memories Of 1945 (Gina)
11.Paint My Love (Pablo)
I Speak English Now! #69-0500
01.Thinking Of You And Me
02.Olivia,Give Me One More Chance ('E Ta 'Ua Olivia 'E)
03.Out Of The Blue (Nawala Ang Lungkot Ko)
04.Prohibited Love (Amor Prohibido)
05.Please Be Careful With My Heart;with Olivia Pineda
06.Tahitian Queen (Vahine Ma'ohi E)
07.Lonely Night In Georgia
08.L'lama L'amour (English version)
09.Touch By Touch
10.Don't Go Away
11.Why Can't You Love Me Anymore
Love You So Much #28-6124
01.True Love Ways
02.My Love Is Real
03.Maawa Ka Naman
04.You're The One
05.I Won't Shed A Tear
06.Hanggang Wakas
07.Love You So Much (Hlub Koj Tshaj)
08.Somewhere In My Past
09.Hlub Koj Tshaj;with Wang Guizhen
10.How Many Times Will You Hurt Me
11.Summer Love,Winter Tears
You're The One (Pilipino) #28-6125
01.Someday Me And You
02.I Haven't Got The Chance
03.Sabi Ng Puso Ko (Dance version)
04.You're The One
05.Remember Me (Tagalog)
06.Without You
07.Nasaan Ang Puso Mo
08.Nandito Lang Ako
09.You Won't See Me Crying
10.Ibang-iba Ka Na
11.I Wish We Had Met Some Years Before
12.First Love Never Dies
Live From Vientiane (Hmong) #85-2739
01.Nqi Kua Mis
02.Kev Hlub Lam Ib Vuag (Ikaw Pa Rin)
03.Mam Pib Dua
04.Xav Nyob Ib Leeg
05.Puas Yog Koj
06.Yam Kuv Ntshaw;with Cristina Lo
07.Hmoov Tsis Cuag
08.Ntsuag Thaum Yau;with Cristina Lo
09.My Love,Mus Zoo Koj
10.Peb Tuaj Ua Ke Qhuas Yexus
11.Xaa Moo Zoo*;with Cristina Lo
Pablo's Greatest Hits #85-9912
01.Maghihintay Sa 'Yo (Dance version)
02.You're The One
03.Ikaw Pa Rin
04.Kid-Teung-Took-Way-Lah
05.My Song To You
06.Tuloy Pa Rin
07.Nawala Ang Lungkot Ko
08.Samoa E Ne'i Galo Atu (Dance version)
09.Xa Em Ky Ni&ecircm
10.Txoj Kev Hlub Rau Koj
11.Kaluguran Da Ka
12.ÎÒ °® Äã (Chinese)
13.Remember Me (Tagalog)
14.Cancion De Amor
Pablo In Miami #90-8216-1 LIMITED TIME ONLY!
01.Pretty Young Girl
02.How I Need You
03.Samoa E Ne'i Galo Atu (Samoan)
04.You're My Love
05.Touch By Touch
06.Hello
07.Mahal,I Love You (Tagalog)
08.Japanese Girls
09.Say You Will Never
10.Ikaw Pa Rin (1996 version)
11.You Are The One
12.'O Le Toatasi
13.Lei Hali'a
My Songs To The World #69-1444
01.Our Father Will Help (Muaj Txiv Paab)
02.We Are The Hmong From Laos (Nkauj Hmoob Los Tsuas)
03.How I Need You
04.Please Don't Let Our Love Fall Apart (Thov Hlub Dua)
05.Lemon Tree
06.Why Did You Break My Heart (Live performance)
07.Say You Will Never
08.My Loss (Dedicated to Olivia 1999)
09.Touch My Heart
10.Be With Me Tonight
11.Rainy Days
12.My Life Between Your Fingers (Mi Historia Entre Tus Dedos)
Memories #67-8205
01.Have You Ever Realy Loved A Woman
02.Waiting For Your Love (Maghihintay Sa 'Yo)
03.Feel So Sorry
04.My Love Will See You Through
05.Tears In Heaven
06.My Song To You
07.Memories
08.Ikaw Pa Rin (J.H.E.T. Disco Version)
09.Como La Flor (Live performance)
10.Why I Go Away (Paalam Na)
11.Love Will Bring Us Together
To Be Free #25-1763
01.Alofa O Le Atua
02.Here I Am (Samoan)
03.Kulay Ng Gabi
04.Ako Ay Babalik
05.Olivia's Song (Tagalog)
06.To Be Free
07.Memory Of You (Xa Em Ky Niem)
08.'O Le Toatasi
09.Mau Loa Ke Aloha (Tagalog & Hawai'ian)
10.He Le No Olivia (Hawai'ian)
11.Pua Hinano
12.Ku'u Lei,Ku'u Ipo
Pablo's Hits 1997 #25-2097-1
01.Nov Los Kev Hlub Tiag
02.Hlub Koj Tshaj Yak-Yak
03.Don't Go Away
04.Yog Koj Hlub Kuv Tiag (Titanic)
05.Miss Na Miss Kita
06.My Love,Mus Zoo Koj
07.Lemon Tree (Samoan)
08.Kahea U'ilani
09.Please Be Careful With My Heart
10.Yam Li Npau Suav
11.Hlub Txog Hnub Ntiag Teb Kawg
12.Buon O'i!Chao Mi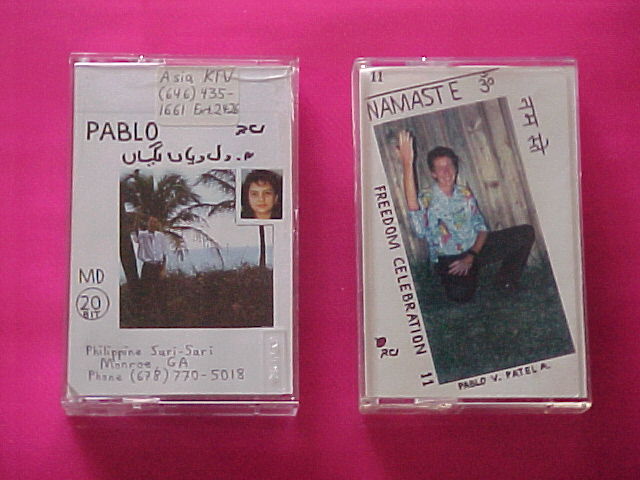 My first album "Liberdade" in 1993
---
Go To Other Pages On Pablo Music Net
This Is Where You Started
Listen To Us Live
New Music,New Faces,And More
Angeles City,Philippines
---
Pablo Rodriguez Tupuola
RCI Productions-Manager
ulapablo@netscape.net
pablito33172@hotmail.com
Honolulu, Hawai'i (808) 646-0140
San Francisco, California (415) 568-8782
Ft. Lauderdale, Florida (954) 907-8738
Miami, Florida (305) 490-9348
Tampa, Florida (813) 300-1601
Jacksonville, Florida (904) 377-7411
Atlanta, Georgia (678) 557-7589
Curitiba, Paran&aacute, Brasil +55(41)9105-9361
& Fagatogo, Amerika Samoa +6846886775
---
---